Built in 1958, Suining Jinhua Textile Factory has been irreplaceable to Suining citizens. What the factory brought to the hardworking workers was more than merely a job that could make a living, but a stable home that supported a simple and delighted life with similar social circles in last century. The factory had lost its economic value as the environment changed. As an extension to Heritage Unfold, a new cultural destination uses the cultural past to inspire a creative future.
Suining 1958 Cultural Development, the factory uses an amalgamation of industrial components to reinterpret industrial memory creating a new sense of place at the heart of Suining.Textile Society is a design hub that celebrates Suining's industrial history while nurturing its creative community. The heritage destination boasts everything from experiential retail shops focused on combination of arts & crafts and textiles with a central atrium designed for performances and cultural happenings.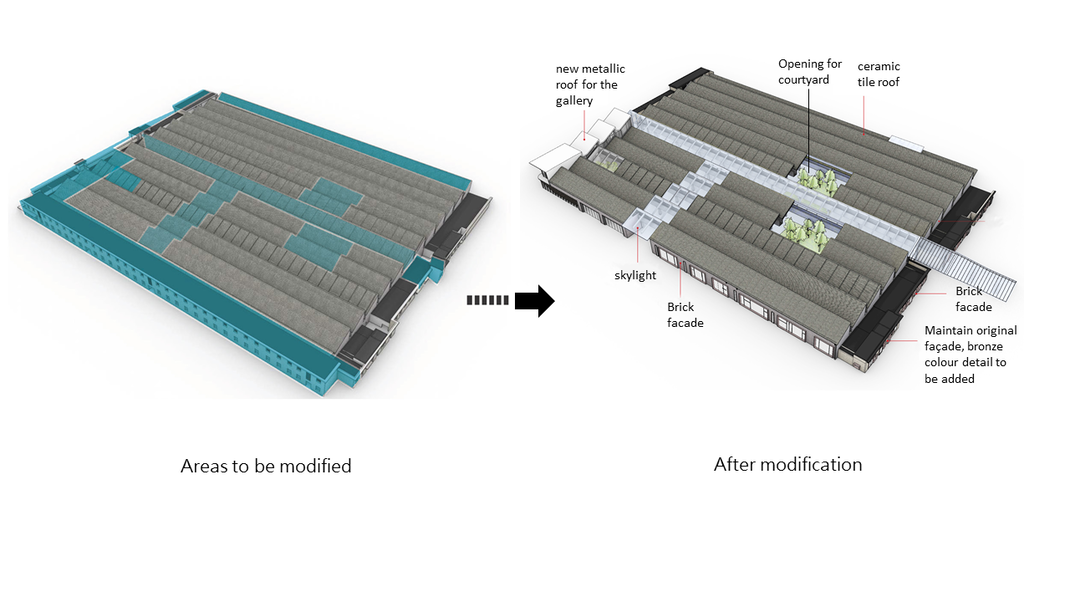 Like a Textile Society, the design hub support repeated visitations from those that wish to further explore this connection and knowledge.Through the development projects of Greenland, vitality is injected to Big and Small Factory which were placed with large textile machines, weaving combs and reels. Textile Society has two axes and four entrances. Cultural Plaza, is located in the confluence, offers leisure and cultural interaction space.
The outdoor landscape of Textile Society has a simple and neat design. Soft grassland with tall thin trees creates a relaxing and cosy atmosphere. The colours and materials merges with interiors seamlessly, using the grey and earth tone colours of old factory to outline the new landmark of Suining.
East-West Axes. East Lane.Industrial Art Lane.Being the heart of the factory, East Entrance connects Big and Small Factory. The splendid factory collective memories come to life by an environment with old factory details and tools like machines and reels. The integration of factory images creates a tall wall to summarize the good old times of factory lives.
Extending to East Lane from East Entrance, it comes to the Craft Section of two axes. Traditional factory interiors elements as in old bricks, factory lightings, fans and worn signage are represented in a modern way along the lane befitting the commercial position of art and sports machinery. The design connects the industrial history from half of a century with current; connects the past with today, to show the unique Suining culture.
West Lane.Weaving Art Lane. As an elegant landscape garden, water feature and greenery are placed on the wall of West Entrance as an extension of the landscape. The sounds of endless waterflow guide visitors to interact with the sound system at the centre of West Entrance. The factory is energized by the interaction and sunlight through skylight.
Stepping into Textile Section, it is the best space of displaying Suining textile culture heritage. Bringing textile elements into design, old weaving combs are combined and transformed into a screen of the shops while the factory layouts create the window frames. Integration of crafts and textiles illustrates a spectacular history of Suining textile experience.
North-South Axes.North-South Lane.Cultural Life Lane. Jinhua Textile Factory was not only a factory, but also a home to workers. Workers worked, lived and spent their personal time with their families within the factory to embody the living pattern of blending industry, textile and life. The North-South Lane is the Culture and Living Section to integrate art and culture with F&B and leisure to create an aesthetic living space for Suining young generation.
Cultural Plaza. Located in the confluence of two axes, Cultural Plaza provides a space for assembly and interaction. Highlighted by natural environment and factory features, a leisure living atmosphere is created and the interaction within Cultural Plaza is increased surrounded by the space with greenery and water curtain.
The water curtain is also a time display for visitors and the workers from offices nearby. Different from traditional large pendulums, the innovative time display brings vitality to the historic Textile Society.
Visitors of two axes can assemble in the centre and utilize the Cultural Plaza of strong factory features to organize varies of activities along the lanes. Cultural Plaza will be a decent place for fashion shows, outdoor art exhibition, markets and performance to facilitate cultural interaction and entertainment activities.
Diverse Textile Society offers comprehensive and practical cultural experience to visitors including weaving and craft workshops. Textile Society values art and cultural exchange; providing art trainings to exhibit and continue Suining culture. Besides, it includes a modern sports centre and facility offering sports equipment and services.
Renovated by Big and Small Factories, Textile Society reserves traditional architecture details and culture with innovative design elements to weave collective memories. Being in old factory architecture with modern interiors and facilities, all-age visitors can experience the sense of home.
The latest construction photo
The latest construction photo
The latest construction photo
The lighting design integrates with traditional facade, creating a strong contrast and a sense of modernity in the evening.
The latest construction photo
The latest construction photo
The project preserves traditional construction material and injects contemporary design elements to architecture, landscape and interiors.
Jin Yi Fang Suining 1958 Textile Factory Industrial Memory and Nature Dialogue
Injected contemporary industrial design to energize the atmosphere, The Textile Society is revitalized with reservation of Suining Textile Factory culture and architectural materials. Lively historic and cultural experience are brought to visitors along the lanes. Collective memories come to live to generations where a unique experience and cultural interaction are created by bespoke design and planning.